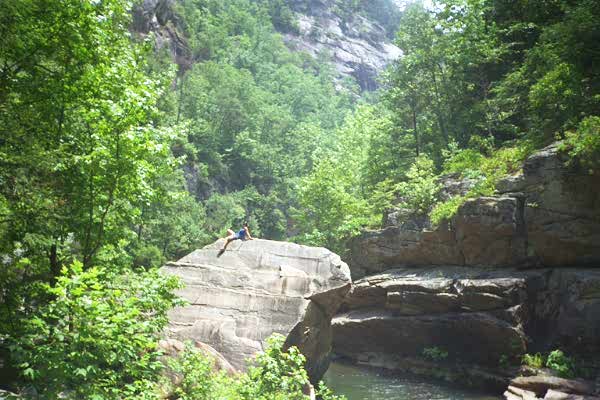 Tallulah Gorge is one of the deepest gorges in the East – 600 feet deep. It was cut down into quartzite. This area was formed when there was a compression event and the region was literally folded up on itself – like the letter S. So, when looking at the walls of the gorge, you see layers that repeat themselves twice. You are able to note the same sequence of rocks three times. The sides of the gorge are composed of shist and sandstone and the floor is quartzite.
Tallulah Gorge also provides a textbook example of stream capture. Prior to the formation of the gorge, the Chattooga and Tallulah Rivers were the headwaters of the Chattahoochee. The rapidly down-cutting Savannah River eventually cut back and pulled these two rivers away from the Chattahoochee. Over millions of years, this river carved out the Tallulah Gorge.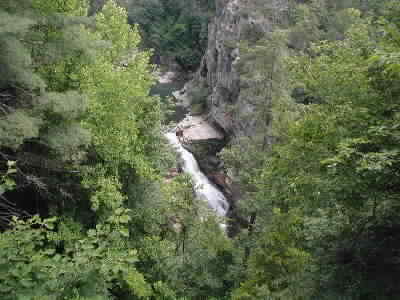 At the top of the gorge, the Tallulah River narrows and quickly flows toward and over Ladore Falls. While in the gorge, the river flows over five more falls: 76-foot Tempesta Falls, 96-foot Hurricane Falls, Oseana Falls, 17-foot Bridal Veil Falls, and 16-foot Sweet Sixteen Falls. Beyond the falls is Horseshoe Bend – one of the deepest points in the gorge and a fantastic place to admire the towering rock cliffs.
Tallulah Gorge represents the first large environmental legal battle in Georgia. In 1905 the state attempted to buy Tallulah Gorge, but could not raise the money. As a result, the fledgling Georgia Power Company bought it, so concerned citizens tried to prevent development. They went from Rabun County, to the Georgia legislature, governor, and Supreme Court before approaching President Taft. But, before anything could be done, the dam building began. Upon completion, the Tallulah River was reduced to a trickle through the gorge, but power flowed from Tallulah to Atlanta over power lines.
There is now a rare partnership between the state of Georgia and Georgia Power Company, whereby there are now "aesthetic" water releases throughout the year. On a regular bases, the flow of water is so little, that you can safely hike down to the floor of the gorge. But, several weekends throughout the year, Georgia Power will allow the water to flow at pre-dam levels so visitors can view the original beauty of the waterfalls and the rest of the gorge. At these times, visitors will not be allowed to hike to the bottom of the gorge.